Breast Augmentation
Breast augmentation is a procedure designed to enhance the size and shape of a woman's breasts through the use of saline or silicone breast implants. Breast augmentation can, to some degree, lift a sagging bustline, create more symmetrical breasts, and correct a reduction in breast volume following pregnancy. Breast augmentation surgery is the most common procedure performed by our Orlando plastic surgeon, Dr. Jon Paul Trevisani. He is a leader in this area of cosmetic surgery.
Dr. Jon Paul Trevisani is recognized as a partner in the advancement of plastic surgery and named as one of the top 25 breast augmentation plastic surgeons in the United States as an appointed member of the physician advisory board for the LEAD program. The LEAD (Leadership, Experience in Augmentation and Development) program is hosted by Mentor Corporation.
In addition, Dr. Jon Paul Trevisani has had the privilege of being one of the surgeons in Florida to participate in the CPG or "contour profile gel" implant clinical trial here in the United States. It is an implant that is widely used throughout the world and is now under investigation for FDA approval. The CPG implant features a teardrop shape that can provide patients with more natural-looking breasts. They are often preferred by women who are looking for a gently sloping breast silhouette. The Cohesive Gel Implant is designed in such a way that it mimics this shape. Only select surgeons participating in this study have access to the CPG implants and can determine patient eligibility. Surgical expertise and a commitment to careful patient follow-up were the criteria in choosing the select surgeons. There are approximately sixty surgeons throughout the United States that have been selected to participate in this clinical trial and who have access to the CPG implants, in Florida there are two surgeons.
My consultion with Dr Trevisani ended my three year search for a plastic surgeon. He is genuine, honest and understanding. The main reason I chose him was for the high level of service he provides his patients. I was confident I was in good hands. Not only were my expections met, they were exceeded. I couldn't be happier!

- Lori
The Breast Augmentation Procedure

There are several ways your breast augmentation procedure can be performed at our facility near Orlando, Florida. Breast implants can be placed either above or below the chest muscles, and the incisions can be made either around the areola (Peri-Areolar) or under the fold of the breast (Inframmary). The breast augmentation method you and Dr. Jon Paul Trevisani choose depends on factors such as breast size and your level of physical activity. Here are the different breast augmentation procedures Dr. Trevisani will discuss with you during your consultation:
Periareolar submuscular: During this breast augmentation procedure, the incision is made around the areola (the dark skin surrounding the nipple), and the breast implants are placed behind the chest muscle.
Periareolar subglandular: During this breast augmentation procedure, the incision is made around the areola, and the breast implants are placed above the chest muscle.
Inframmary submuscular: During this breast augmentation procedure, the incision is made in the fold under the breast, and the breast implants are placed behind the chest muscle.
Inframmary subglandular: During this breast augmentation procedure, the incision is made in the fold under the breast, and the breast implants are placed above the chest muscle.
Breast augmentation usually takes one to two hours to complete and is performed under general anesthesia administered by a highly trained anesthesiologist.
Dr. Jon Paul Trevisani is Keller Funnel™ Certified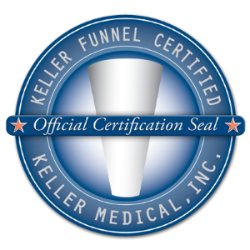 Dr. Jon Paul Trevisani is certified to execute breast augmentations with silicone implants using the Keller Funnel™ for an improved patient experience. The Keller Funnel™ allows Dr. Jon Paul Trevisani to employ a unique "No-Touch" approach that prevents the implant from coming into contact with a patient's skin, thus reducing the potential for contamination from residual bacteria on the skin. This remarkable method also assists with preventing possible trauma to the implant's outer shell, and is believed to help decrease the chances of capsular contracture. Patients who receive breast implants through the Keller Funnel™ technique also typically require smaller incisions, leading to minimal scarring. This innovative device streamlines the surgical procedure, often leading to reduced time in the operating room, as well.
Click here to learn more about the certification requirements and the Keller Funnel™.
Breast Augmentation Recovery
You can expect to feel sore for a few days following your breast augmentation procedure, but you should be up and around within 24 to 48 hours. Your stitches will be removed approximately 2 weeks following your breast surgery, and you can expect your breasts to remain swollen for three to five weeks. Dr. Jon Paul Trevisani will let you know when you can return to daily activity and exercise.
Breast Implants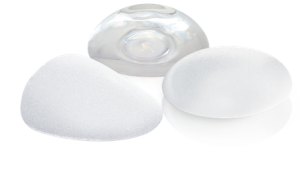 Dr. Jon Paul Trevisani offers a variety of breast implant types in an effort to provide our patients with the ability to customize their breast augmentation procedure. To best meet the cosmetic goals of his patients, Dr. Jon Paul Trevisani works with each individual to find the right size, shape, and style. In a one-on-one consultation, he can discuss the advantages and disadvantages of each option, ensuring patients are well-informed prior to making a decision.
Below, you will find details about each of the breast implant options offered at The Aesthetic Surgery Centre.
Saline Breast Implants
FDA-approved for patients 18 years and older, saline breast implants have been used in breast augmentation procedures for many years, and continue to be the most economical breast implant option. These implants are composed of an outer silicone shell and a saline (saltwater) solution. When being placed, Dr. Jon Paul Trevisani is able to make a very small incision, because saline implants do not come pre-filled. This feature also allows Dr. Jon Paul Trevisani to carefully fill each implant to the patient's desired volume, once placed. In the rare occurrence of an implant rupture, patients with saline breast implants are typically able to detect the issue almost immediately, due to noticeable volume loss (the body safely absorbs the saline solution). Ruptured implants can be replaced during breast revision surgery.
Silicone Gel Breast Implants
Although silicone breast implants are pre-filled, Dr. Jon Paul Trevisani is able to use the Keller Funnel™ technique to reduce the necessary incision size. With a strong outer silicone shell, these implants are filled with a thick silicone gel material that often provides a softer, more natural look and feel than saline implants. Patients with a thinner body frame also frequently benefit from this type of implant, since it is less prone to rippling. These advantages have helped silicone gel implants to become the most popular choice for our patients. Silicone gel implants have been approved by the FDA for breast augmentation since 2006, and our practice has seen an increased demand for them ever since.
Anatomically Shaped Cohesive Gel Breast Implants
Also known as Contour Profile Gel (CPG) implants, cohesive gel implants offer a unique distinction – they are filled with a thick, form-stable silicone gel. The strong outer silicone shell of these implants is anatomically shaped (similar to a teardrop shape) for a more natural appearance. Only a small percentage of patients are generally considered ideal candidates for these implants, based on the specific anatomy of their breasts (shape, disposition, etc.). In a consultation, Dr. Jon Paul Trevisani can help patients determine if CPG implants are right for them. To help prevent implant rotation, CPG implants also feature a textured outer shell. The thick, cohesive silicone gel inside these implants differs from other silicone implants because it is more readily able to maintain its shape, and is designed to be resistant to leaking in the rare event of an implant rupture.
Breast Implant Placement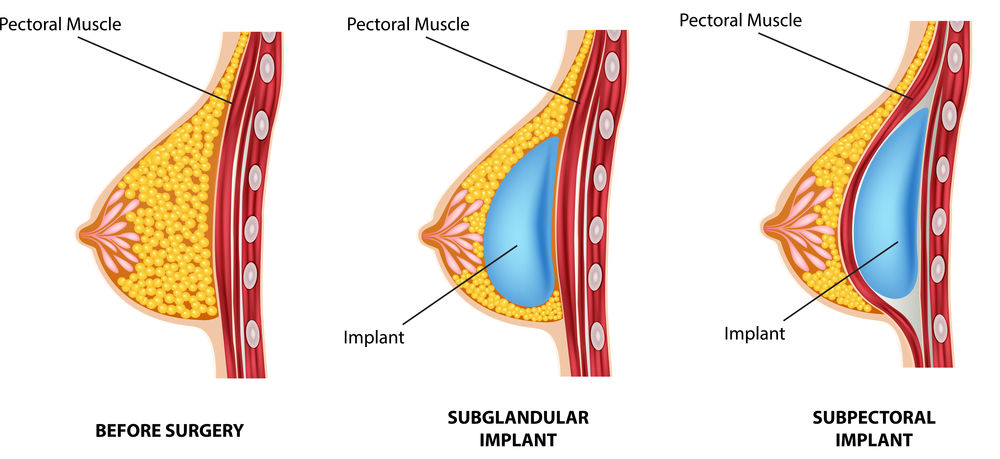 Learn About Breast Enhancement with Dermal Grafting
To provide additional support and ensure satisfactory results for patients with minimal breast tissue due to breast augmentation complications or naturally thin skin, Dr. Jon Paul Trevisani offers a unique and innovative technique known as dermal grafting. Depending on your individual needs, Dr. Jon Paul Trevisani can use either a biologic or non-biologic graft for this treatment. Commonly used in these types of procedures, Strattice® is a natural product derived from porcine dermis (a biologic material similar to appliances commonly used in surgeries such as heart valve replacement). Another biologic option available at our practice is AlloDerm®, which is a regenerative tissue matrix consisting of acellular human (cadaver) dermis. As a non-biologic alternative, Dr. Jon Paul Trevisani can use a surgical mesh, such as GalaFLEX®, which is a supportive monofilament surgical scaffold made up of resorbable and naturally derived material. Ultimately, Dr. Jon Paul Trevisani will help you determine which option can achieve the best possible results and further enhance the outcome of your breast augmentation.
Learn More About Breast Augmentation
To help you determine the best treatment for your needs and goals, here are some answers to commonly asked questions about breast augmentation. For additional help, please contact our practice and schedule a consultation.
Am I a good candidate for breast augmentation?
Millions of women have received breast augmentation and achieved the look and feel they desire. Patients who are in good general health and who have reasonable expectations for the result can be excellent candidates for this procedure. If you would like larger, shapelier, and/or more symmetrical breasts, breast augmentation can help. Dr. Jon Paul Trevisani will evaluate your characteristics, review your cosmetic goals, and develop a customized treatment plan with these considerations in mind.
What will my scars look like?
The location of your scars will depend on where the incisions are placed. The most common entry point is located under the breast along the inframammary fold. Another possible option is the periareolar incision. In each case, Dr. Jon Paul Trevisani will make every effort to provide the smallest, least noticeable incisions possible. While the scars will appear pink and raised at first, they should fade in color and flatten over time. Most patients heal well and the resulting scar is mostly imperceptible. We can provide advice on how to enhance your recovery to maximize your outcome.
Are breast implants permanent?
Some patients will never need to have another breast surgery in their lifetime; however, most breast implants have a warranty of about 10-20 years. While ruptures and capsular contraction (a condition where scar tissue around the implant hardens) are rare occurrences, these incidents will require additional surgery. Some women choose to have a second procedure because they want another type of implant, or because they want larger or smaller implants. Some women even have them removed. Everyone's needs and goals are unique, so it's essential to select a plastic surgeon who will take the time to listen to your concerns and customize your treatment.
Can implants affect mammograms?
In most cases mammograms can be performed effectively on women with breast implants. You should choose a facility that has experience performing mammograms on women who have had breast augmentation. Always inform the patient coordinator you have implants when you schedule your appointment, and they should be able to pair you with a radiologist skilled in this procedure. Your physician may recommend you have an MRI if the mammogram was unable to adequately show all the breast tissue, which we recommend women with silicone implants do on occasion anyway.
What if I change my mind down the road?
If your lifestyle and preferences change over time, your breast implants can be exchanged for a larger or smaller size, a different type, or removed altogether. Breast implant exchange is becoming more popular as many women with saline implants replace them with silicone. If you believe you may change your mind at a later date, you should discuss your concerns in advance with our extensively trained plastic surgeon to determine if this procedure or another one is best for you.
Contact Us
If you would like more information, please contact the Aesthetic Surgery Centre today. We'd be happy to answer your questions on breast enlargement with implants or other procedures that you can combine with a breast augmentation in a mommy makeover.