Breast augmentation is a procedure designed to enhance the size and shape of a woman's breasts through the use of saline or silicone breast implants. Breast augmentation is often utilized to create more symmetrical breasts, as well as to correct a reduction in breast volume following pregnancy. Additionally, the surgery can—to some degree—lift a sagging bustline. Breast augmentation surgery is the most common procedure performed by our Orlando plastic surgeon, Dr. Jon Paul Trevisani. He is a leader in this area of cosmetic surgery.
Why Choose Dr. Jon Paul Trevisani for Breast Augmentation?
As an appointed member of the physician advisory board for the LEAD program, Dr. Jon Paul Trevisani is recognized as a partner in the advancement of plastic surgery and is named one of the Top 25 Breast Augmentation Plastic Surgeons in the United States. The LEAD (Leadership, Experience in Augmentation and Development) program is hosted by Mentor Corporation. With over 25 years of experience, Dr. Jon Paul Trevisani has been in private practice since 1995 and performed over 10,000 surgical procedures, resulting in a spectrum of unmatched, natural-looking outcomes for countless patients. Furthermore, his team of first-rate nurses, anesthesiologists, and aesthetic professionals have over 100 years of combined cosmetic surgery experience and know exactly how to make the treatment process as seamless as possible.
Dr. Jon Paul Trevisani also has had the privilege of being one of the only surgeons in Florida to participate in the "contour profile gel" (CPG) implant clinical trial in the United States. There are approximately sixty surgeons throughout the United States who were invited to take part in the trial, with the criteria for choosing participants including surgical expertise and a commitment to careful patient follow-up care. The CPG implant features a teardrop shape that can provide breast enhancement patients with more natural-looking breasts. This implant is widely used throughout the world, and is now under pending review for FDA approval. They are often preferred by women who are looking for a gently sloping breast silhouette. The cohesive gel implant is designed to mimic this shape. Only surgeons selected to participate in this study have access to the CPG implants and can determine patient eligibility. In Florida, only two surgeons were selected to participate, making Dr. Jon Paul Trevisani one of the rare few plastic surgeons offering CPG implants.
My consultation with Dr. Trevisani ended my three year search for a plastic surgeon. He is genuine, honest and understanding. The main reason I chose him was for the high level of service he provides his patients. I was confident I was in good hands. Not only were my expectations met, they were exceeded. I couldn't be happier!

– Lori
Am I a Good Candidate for Breast Augmentation?
Millions of women have received breast augmentation and achieved the look and feel they desire. Patients who are in good general health and who have reasonable expectations for the result can be excellent candidates for this procedure. If you would like larger, shapelier, and/or more symmetrical breasts, breast augmentation can help. Dr. Jon Paul Trevisani will evaluate your characteristics, review your cosmetic goals, and develop a customized treatment plan with these considerations in mind.
What Types of Breast Implants are Available?
Dr. Jon Paul Trevisani offers a variety of breast implant types in order to provide our patients with the ability to customize their breast augmentation procedure. To best meet the cosmetic goals of his patients, Dr. Jon Paul Trevisani works with each individual to find the right size, shape, and style. In a one-on-one consultation, he can discuss the advantages and disadvantages of each option, ensuring patients are well-informed prior to making a decision.
Below, you will find details about each of the breast implant options offered at The Aesthetic Surgery Centre.
SALINE BREAST IMPLANTS
FDA-approved for patients 18 years and older, saline breast implants have been used in breast augmentation procedures for many years, and continue to be the most economical breast implant option. These implants are composed of an outer silicone shell and a saline (saltwater) solution. When placed, Dr. Jon Paul Trevisani is able to make a very small incision because saline implants do not come pre-filled. This feature also allows Dr. Jon Paul Trevisani to carefully fill each implant to the patient's desired volume, once placed. In the rare occurrence of an implant rupture, patients with saline breast implants are typically able to detect the issue almost immediately, due to noticeable volume loss (the body safely absorbs the saline solution). Ruptured implants can be replaced during breast revision surgery.
ANATOMICALLY SHAPED COHESIVE GEL BREAST IMPLANTS
Also known as Contour Profile Gel (CPG) implants, cohesive gel implants offer a unique distinction – they are filled with a thick, form-stable silicone gel. The strong outer silicone shell of these implants is anatomically shaped (similar to a teardrop shape) for a more natural appearance. Only a small percentage of patients are generally considered ideal candidates for these implants based on the specific anatomy of their breasts (shape, disposition, etc.). In a consultation, Dr. Jon Paul Trevisani can help patients determine if CPG implants are right for them. The thick, cohesive silicone gel inside these implants differs from others made from silicone because it is more readily able to maintain its shape. Cohesive gel implants are also designed to be leak-resistant in the rare event of an implant rupture.
SILICONE GEL BREAST IMPLANTS
Although silicone breast implants are pre-filled, Dr. Jon Paul Trevisani is able to use the Keller Funnel™ technique during silicone implant placement to reduce the necessary incision size. With a strong outer silicone shell, these implants are filled with a thick silicone gel material that often provides a softer, more natural look and feel than saline implants. Patients with a thinner body frame also frequently benefit from this type of implant since it is less prone to rippling. These advantages have helped silicone gel implants become the most popular choice for our patients. Silicone gel implants have been approved by the FDA for breast augmentation since 2006 and our practice has seen an increased demand for them ever since.

Which Implant Shape is Right for Me?
Round
Teardrop-Shaped
Breast implants are usually round or teardrop-shaped, each option having its own unique advantages depending on your cosmetic goals. A number of factors should be considered when determining the most ideal shape for your procedure, including your physiology and the type of aesthetic goal you would like to achieve. In general, round implants can offer a more prominent projection when compared to other shapes, typically creating the appearance of a fuller upper breast pole. Round implants have also been known to include a lessened risk of rippling, wherein the implant edges are seen or felt through the skin. Teardrop-shaped implants are designed to mimic the downward slope of an actual breast and are often chosen to achieve the most natural-looking aesthetic possible. This option may be more beneficial for patients with a thinner body frame who need the implant to provide most—if not all—breast volume. Dr. Jon Paul Trevisani will help you decide the best implant shape for your desired final outcome during a consultation.
SMOOTH VS. TEXTURED IMPLANTS
SMOOTH BREAST IMPLANTS
Smooth implants are utilized most frequently in breast augmentation surgery and many patients prefer this option because of the softer feel and natural motion fostered by the seamless plastic surface. Furthermore, smooth implants typically last longer than textured implants and have a lower chance of rippling once inserted. Dr. Jon Paul Trevisani does not place textured implants due to the complications that have come to light regarding certain types of textured implants.
TEXTURED IMPLANTS AND BIA-ALCL
Recently, the FDA has issued reports involving textured implants and the risk of breast implant-associated anaplastic large cell lymphoma, or BIA-ALCL. While not akin to breast cancer, BIA-ALCL is a type of non-Hodgkin's lymphoma that affects the immune system. If present, BIA-ALCL has mostly been found in the scar tissue and fluid near a breast implant; however, it is also possible for BIA-ALCL to spread beyond the area of implantation.
All cases of BIA-ALCL have been linked to textured implants, which is why Dr. Jon Paul Trevisani does not place textured implants of any kind for breast augmentation patients at the Aesthetic Surgery Centre. Avoiding textured implants completely helps Dr. Jon Paul Trevisani maximize the health, well-being, and safety of those interested in breast augmentation, thereby alleviating many concerns about the development of BIA-ALCL. Our practice is also working with pathologists and histologists to conduct the appropriate diagnostic test—called a CD30—on specimens to rule out the presence of BIA-ALCL.
It is important for current and prospective breast augmentation patients to remain aware of the symptoms that may signify development of anaplastic large cell lymphoma. In general, if you exhibit any of the following symptoms, please be sure to discuss your concerns with your healthcare provider:
Pain after recovery
Lumps
Swelling
Breast Asymmetry
Dr. Jon Paul Trevisani recommends that patients with breast implants simply remain vigilant of any changes in the look and feel of their breasts over time. He and his experienced medical team are available to discuss any questions or concerns you may have about BIA-ALCL.
WHAT ARE MY BREAST IMPLANT PLACEMENT OPTIONS?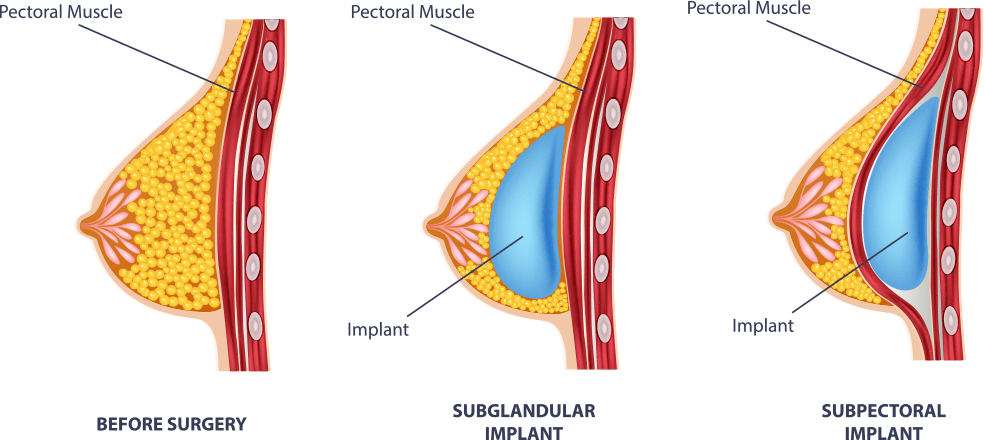 HOW IS THE BREAST AUGMENTATION PROCEDURE PERFORMED?
There are several ways your breast augmentation procedure can be performed at our facility near Orlando, Florida. Breast implants can be placed either above or below the chest muscle, and the incisions can be made either around the areola (peri-areolar) or under the fold of the breast (Inframammary). The breast augmentation method you and Dr. Jon Paul Trevisani will choose depends on factors such as breast size and your level of physical activity. Here are the different breast augmentation procedures Dr. Trevisani will discuss with you during your consultation:
Periareolar submuscular: During this breast augmentation procedure, the incision is made around the areola (the dark skin surrounding the nipple), and the breast implants are placed behind the chest muscle.
Periareolar subglandular: During this breast augmentation procedure, the incision is made around the areola, and the breast implants are placed above the chest muscle.
Inframammary submuscular: During this breast augmentation procedure, the incision is made in the fold under the breast, and the breast implants are placed behind the chest muscle.
Inframammary subglandular: During this breast augmentation procedure, the incision is made in the fold under the breast, and the breast implants are placed above the chest muscle.
Breast augmentation usually takes about one hour to complete and is performed under general anesthesia, administered by a highly-trained anesthesiologist.
DR. JON PAUL TREVISANI IS EXPERIENCED IN USING THE KELLER FUNNEL™
Dr. Jon Paul Trevisani is well-versed in executing breast augmentations with silicone implants using the Keller Funnel™ for an improved patient experience. The Keller Funnel™ allows Dr. Jon Paul Trevisani to employ a unique "No-Touch" approach that prevents the implant from coming into contact with a patient's skin, thus reducing the potential for contamination from residual bacteria on the skin. This remarkable method also assists with preventing possible trauma to the implant's outer shell, and is believed to help decrease the chances of capsular contracture. Patients who receive breast implants through the Keller Funnel™ technique also typically require smaller incisions, leading to minimal scarring. This innovative device streamlines the surgical procedure, often leading to reduced time in the operating room, as well.
WHAT IS RECOVERY LIKE FOR BREAST AUGMENTATION?
You can expect to feel sore for a few days following your breast augmentation procedure, but you should be up and around within 24 to 48 hours. Your stitches will be removed approximately 2 weeks following your breast surgery, and you can expect your breasts to remain swollen for three to five weeks. Dr. Jon Paul Trevisani will let you know when you can return to daily activity and exercise.
What Can I Expect for the Results of Breast Augmentation?
Since the procedure is completely customized to your goals and desired breast contours, results vary from patient to patient. That said, the natural-looking quality of the results is one commonality shared between all women who undergo breast augmentation at our practice. Dr. Jon Paul Trevisani is one of the most experienced and qualified breast surgeons in the entire region, making him uniquely qualified to achieve your ideal results whether you're seeking a more pronounced or subtle augmentation. After the procedure, patients may experience the following:
Immediately after breast augmentation, your breasts may look higher or more swollen than expected. This is normal and your breasts will gradually settle into their final positioning as your recovery progresses.
Incisions may be itchy and your chest muscles may feel sore. Ice packs and over-the-counter pain medication can alleviate any discomfort.
You will not be bedridden, but plenty of rest is essential. It's generally best to walk around and perform light activity as soon as you feel capable in order to promote blood flow.
By customizing the type of incision utilized, the size of the implants, and the location of the implant pocket, Dr. Jon Paul Trevisani is able to achieve results that look natural and complementary to your inherent beauty. His open, transparent patient consultations also allow patients to fully understand the details of their procedure, making it possible to achieve mutual satisfaction after surgery. We encourage you to explore our before-and-after photos to see for yourself how breast augmentation can help you attain the curves you desire.
WHAT WILL MY SCARS LOOK LIKE?
The location of your scars will depend on where the incisions are placed. The most common entry point is located under the breast along the inframammary fold. Another possible option is the periareolar incision. In each case, Dr. Jon Paul Trevisani will make every effort to provide the smallest, least noticeable incisions possible. While the scars will appear pink and raised at first, they should fade in color and flatten over time. Most patients heal well and the resulting scar is mostly imperceptible. We can provide advice on how to enhance your recovery to maximize your outcome.
HOW MUCH DOES A BREAST AUGMENTATION COST?
As breast augmentation is tailored to each patient's unique needs and goals, the cost of surgery will be calculated according to the details of your treatment plan. While the price of breast augmentation will be influenced by your geographic location, as well as the expertise of your plastic surgeon, the ultimate determinants of your total expense may include:
The type of implants utilized
The surgical technique used
Whether your procedure includes a breast lift
The overall complexity of your treatment plan
Whether your surgery is a revisionary procedure
Although an accurate cost of your breast augmentation cannot be ascertained until Dr. Jon Paul Trevisani sees you in a consultation, patient reviews from Realself.com list the average price of surgery near Orlando at approximately $5,500. This should not be considered a true reflection of your potential expenses, but the figure may help inform your decision when researching treatment options. Rest assured our team will provide you with a personalized quote after your consultation.
To help make the cost of breast augmentation more affordable, our practice works with CareCredit®, one of the leading plastic surgery financing options in the country. Once approved through the easy application process, patients can enjoy a range of low- to no-interest payment plans that can be chosen to suit any budgetary concerns. If you would like a friendly member of our team to walk you through the application process, or if you have any other questions about our accepted modes of payment, please don't hesitate to reach out to our practice.
BREAST AUGMENTATION AND LIFT
While breast augmentation can yield beautiful results alone, many women seek to improve the positioning of their breasts in tandem with increasing volume. This enhancement can be achieved in a breast augmentation with lift procedure, a treatment plan frequently termed a "breast lift with implants." For patients who would like to minimize breast drooping in conjunction with volume enlargement, a breast augmentation plus lift is performed to elevate the breasts to a more youthful location while improving the contours via implant placement.
Incorporating both procedures into a single surgery is one way to perform a breast lift with implants, and Dr. Jon Paul Trevisani can evaluate your concerns to determine if this is the best technique for your needs. However, he prefers to approach a breast augmentation plus lift in two stages—first rejuvenating the breasts with mastopexy (breast lift), and then placing implants after a six month period between the two procedures. From his years of experience, Dr. Jon Paul Trevisani has found that this method provides better long-term results when compared to a joint surgery.
BREAST IMPLANT COMPLICATIONS
While breast augmentation has been performed safely and effectively for decades, the risk of possible complication exists in every surgery. In the event of implant rippling, capsular contracture, or implant rupture, Dr. Jon Paul Trevisani offers breast revision surgery to correct the issue as well as to replace or remove a patient's breast implants. The most common concerns with regard to implants include:
Implant rippling: The edges of an implant are seen or felt through the skin. This is possible when there is not enough skin or breast tissue to provide proper coverage for the implant. To reduce the chances of rippling, Dr. Jon Paul Trevisani places the implant under the chest muscle when necessary to allow optimal support.
Capsular contracture: Scar tissue forms around the implant and causes it to contract, possibly making the breasts feel tight or firm to the touch.
Implant rupture: If a saline implant tears or ruptures, there is often an obvious change in the size and/or shape of the breasts as the saline solution is harmlessly absorbed by the body. Silicone implants may remain intact in the event of rupture, necessitating periodic MRIs to check on the condition of the implant.
If they should arise, implant complications may occur during the healing process or after several years of use. When implants have surpassed 10 years of use, it is not uncommon for women to upgrade to a different implant type, size, or shape in a breast revision procedure.
Will I Need Breast Revision Surgery?
Breast revision is not always necessary for patients who have breast implants. The procedure can simply address complications stemming from an original augmentation, or help patients whose primary breast surgeon didn't achieve their desired results. Many patients enjoy their breast augmentation results for a lifetime and have no need to undergo an additional procedure.
For patients wanting to improve upon the outcome of their first breast surgery, a breast revision can be very effective. On top of addressing complications, the procedure can also be performed to exchange or replace your implants for a different size, type, or shape. Best of all, the incision made during your primary breast augmentation can be re-used for your revision procedure, allowing you to avoid further scarring.
ADDITIONAL BREAST AUGMENTATION FAQS
To help you determine the best treatment for your needs and goals, here are some answers to commonly asked questions about breast augmentation. For additional help, please contact our practice and schedule a consultation.
HOW LONG DO BREAST IMPLANTS LAST?

Some patients will never need to have another breast surgery in their lifetime; however, most breast implants have a warranty of about 10-20 years. While ruptures and capsular contraction (a condition where scar tissue around the implant hardens) are rare occurrences, these incidents will require additional surgery. Some women choose to have a second procedure because they want another type of implant, or because they want larger or smaller implants. Some women even have them removed. Everyone's needs and goals are unique, so it's essential to select a plastic surgeon who will take the time to listen to your concerns and customize your treatment.

CAN IMPLANTS AFFECT MAMMOGRAMS?

In most cases mammograms can be performed effectively on women with breast implants. You should choose a facility that has experience performing mammograms on women who have had breast augmentation. Always inform the patient coordinator you have implants when you schedule your appointment, and they should be able to pair you with a radiologist skilled in this procedure. Your physician may recommend you have an MRI if the mammogram was unable to adequately show all the breast tissue, which we recommend women with silicone implants do on occasion anyway.

WHAT IF I CHANGE MY MIND DOWN THE ROAD?

If your lifestyle and preferences change over time, your breast implants can be exchanged for a larger or smaller size, a different type, or removed altogether. Breast implant exchange is becoming more popular as many women with saline implants replace them with silicone. If you believe you may change your mind at a later date, you should discuss your concerns in advance with our extensively trained plastic surgeon to determine if this procedure or another one is best for you.

HOW SHOULD I SLEEP AFTER BREAST AUGMENTATION?

After surgery, there should be as little strain placed on the chest as possible. We recommend sleeping with your back propped up by pillows during the first couple of nights after your procedure. This should elevate the chest at a 30 degree angle, helping to accelerate the healing process. You should be able to sleep on your side around two weeks after your surgery.

CAN I BREASTFEED WITH BREAST IMPLANTS?

If you could breastfeed before surgery, there is a strong likelihood that you will still retain the ability to nurse after breast augmentation. However, it is essential to communicate your desires for future breastfeeding with Dr. Jon Paul Trevisani, as he can take special measures to preserve lactating function by avoiding the periareolar incision and ensuring the nerves, milk ducts, and blood vessels of the nipple remain intact. Please don't hesitate to raise any concerns about breastfeeding with implants to Dr. Jon Paul Trevisani during your consultation.

What is fat transfer breast augmentation?

Also referred to as "natural breast augmentation," a fat transfer breast procedure is designed to take excess fatty tissue from elsewhere on the body and redistribute it to the breast contours. This technique is still in its infancy and breast augmentation solely through fat grafting does not produce a dramatic or powerful enlargement in breast size, as some of the relocated fat is usually reabsorbed by the body. For these reasons, Dr. Jon Paul Trevisani only performs fat transfer to fix contour irregularities and smooth the edges of the implant if they are seen/felt through the skin.

Is there a link between breast implants and cancer?

The risk of breast cancer appears to be no different for women with breast implants and women without breast implants. This finding is based on decades of research regarding the safety of implants, which generally disprove the myth that breast implants lead to higher rates of cancer. Based on recent developments, there may be a possible association between textured breast implants and an extremely rare cancer of the immune system called BIA-ALCL; however, this condition doesn't necessarily concern Dr. Jon Paul Trevisani's patients, as he has always utilized smooth implants at The Aesthetic Surgery Centre.

Are breast implants safe?

The breast implants offered at our practice are considered very safe for use in breast augmentation and reconstruction procedures. While every type of surgery inherently involves some chance of potential complication, the FDA characterizes the risk profile for breast implants as very low. Dr. Jon Paul Trevisani takes the overall health and safety of his patients very seriously and he encourages you to speak with him about any concerns you may have regarding breast augmentation.

Should I wear a specific bra after breast augmentation?

You will wear a post-surgical bra immediately after your procedure to protect your incisions, minimize swelling, and help ensure your breasts settle into the correct positioning. This will likely resemble a sports bra with wide straps and clasps in the front. Dr. Jon Paul Trevisani will give you instructions on how long to wear this garment based on your unique rate of healing. After your breasts have healed, it is best to avoid underwire bras for at least six weeks.

How can I reduce swelling after breast augmentation?

Over-the-counter pain medication and ice packs should manage any post-operative discomfort well. Swelling is a normal and natural part of the healing process after breast augmentation, and most inflammation typically subsides within four to six weeks of recovery. That said, it is not uncommon for residual swelling to last as long as six months. Be sure to avoid smoking, alcohol, and an unhealthy diet after surgery to prevent a prolonged healing period.
CONTACT US
If you would like more information, please contact the Aesthetic Surgery Centre today. We'd be happy to answer your questions on breast enlargement with implants or other procedures that you can combine with a breast augmentation in a mommy makeover.