Having children can be one of life's greatest gifts; however, the physical changes many women go through during pregnancy and child-rearing can be difficult to reverse with diet and exercise alone. Plastic surgeon Jon Paul Trevisani, MD can help you get back to your pre-pregnancy figure with a combination of procedures called a Mommy Makeover. This personalized treatment plan is designed to address all of your unique concerns at once, often providing a more efficient solution than undergoing numerous procedures individually. Upon a personal consultation, Dr. Jon Paul Trevisani can answer all of your questions regarding your Mommy Makeover options and work with you to achieve the results you desire.
WHAT IS A MOMMY MAKEOVER?
A Mommy Makeover is a series of surgical and non-surgical treatments designed to improve the areas commonly affected by pregnancy and breastfeeding, sometimes with the goal of restoring a patient's pre-pregnancy appearance. Depending on an evaluation of your individual concerns, a Mommy Makeover may be completed in one procedure or in multiple stages. Surgical options such as breast augmentation, breast lift, breast reduction, tummy tuck surgery, liposuction, and more can help recontour your body, rejuvenate your skin, and restore confidence in your appearance. Non-surgical facial rejuvenation is also offered for women who may see signs of exhaustion, stress, and aging in the face. If one of your objectives is to restore a brighter, more youthful appearance, cosmetic injectables such as BOTOX® Cosmetic or Dysport® can reduce the appearance of fine lines and wrinkles and give your facial features a more refreshed look.
WHO IS A GOOD CANDIDATE FOR A MOMMY MAKEOVER?
Candidates for Mommy Makeover treatments are typically mothers who are experiencing:
A sagging or drooping appearance in the breasts due to excess skin and fat deposits
Excess fat and skin in the abdomen
Fat deposits in virtually any body area that are resistant to diet and exercise
Stretch marks
Signs of premature aging and exhaustion
If you are interested in a Mommy Makeover, it's important that you are relatively healthy and have realistic expectations about what the procedure can achieve. Dr. Jon Paul Trevisani will review your medical history and evaluate your concerns to determine whether you are a good candidate for a Mommy Makeover.
WHAT CAN A MOMMY MAKEOVER ACCOMPLISH?
A Mommy Makeover can help resolve a number of changes that occur in the face and body after having a child. Depending on which procedures you opt to include in your treatment plan, a Mommy Makeover can:
Restore breast volume
Lift and reshape the breasts
Get rid of excess fat pockets around the abdomen, hips, thighs, arms, and/or back
Tighten and repair abdominal muscles that were stretched from pregnancy
Remove loose, excess skin from the abdomen
Smooth wrinkles and reduce signs of age and exhaustion in the face
Your treatment plan will be unique to your individual concerns. As a result, the benefits of a Mommy Makeover typically vary from patient to patient.
How Do I Prepare for a Mommy Makeover?
Your consultation should give you a good idea of the steps you can take to better prepare for your Mommy Makeover. During your appointment, Dr. Jon Paul Trevisani will ensure you understand your proposed surgical timeline, as well as any pre-operative instructions that can help your recovery proceed as smoothly as possible. In general, patients planning for a Mommy Makeover should:
Stop smoking for at least four weeks before and after surgery. Smoking can greatly increase the risk of post-surgical complications, such as negative reactions to the anesthesia, poor blood flow, and delayed wound healing, among other adverse effects.
Make plans for someone to drive you to and from the surgical facility. Since your procedure(s) will likely utilize general anesthesia, it's necessary to arrange a ride while the effects of the anesthesia wear off.
Set up a room or area of your home to rest during your recovery. Before your surgery, it can often be helpful to prepare a room/space where you can peacefully recover during the healing process. If you have a recliner or adjustable bed, this can be ideal for improving blood flow after certain procedures — such as recovery following a tummy tuck, which is typically aided by resting with the knees at a slight bend and the head mildly elevated.
Stop taking NSAIDs and anti-inflammatory medications. These supplements can increase bleeding after your procedure if they're taken before surgery.
Depending on your medical history, you may also be asked to undergo routine lab testing or medical evaluations prior to surgery. These pre-operative measures are designed to confirm whether you're a good candidate to safely achieve your goals with a Mommy Makeover.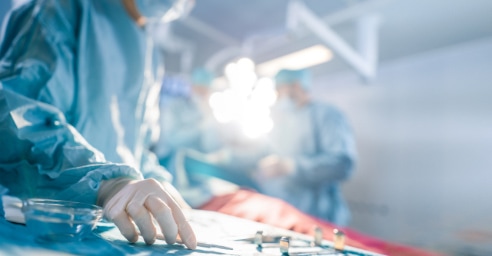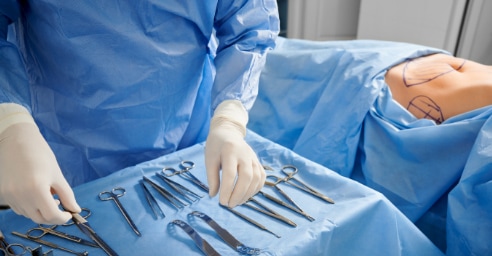 What Can I Expect During Mommy Makeover Surgery?
A Mommy Makeover generally utilizes general anesthesia, or local anesthesia with IV sedation. The procedures are performed at our private AAAASF-accredited surgical facility. In most cases, Mommy Makeover treatments are performed as outpatient surgeries, allowing individuals to return home on the same day as their procedure(s). That said, an overnight stay may be necessary for certain patients.
If your treatment plan includes a tummy tuck, the incision will be placed horizontally from hip to hip on the lower pubis. From here, Dr. Jon Paul Trevisani can bring together separated abdominal muscles and remove excess skin. In cases of breast augmentation or breast lift surgery, the incision may be placed vertically, from the areolas to the breast crease, or in an anchor-shaped fashion encircling the areolas and along the breast fold. Liposuction is among the least invasive surgeries included in a Mommy Makeover, only requiring small half-inch incisions to suction out isolated fat cells. All incisions are made along the natural contours of the breasts and body whenever possible. You will need to arrange for a ride home from our office, as you will likely still be under the effects of anesthesia.
WHAT DOES A MOMMY MAKEOVER CONSIST OF?
There are a variety of aesthetic enhancement procedures offered by our experienced plastic surgeon that can reverse these effects and renew your body and skin. Some of the most common treatments included in a Mommy Makeover are:
BREAST AUGMENTATION
After pregnancy, women may lose volume in the breasts, causing them to appear smaller. Breast augmentation can effectively address this by adding fullness and new contour to the breasts with saline or silicone gel breast implants. With breast augmentation, you can restore lost volume and enhance the breasts for a fuller, more sensual appearance.
BREAST LIFT
The breasts can take on a sagging appearance after pregnancy and/or breastfeeding, losing their "perkiness" and giving off a more aged look. Breast lift surgery can correct this by removing excess skin and lifting the breasts to a higher position, making them look more firm, smooth, and youthful.
LIPOSUCTION
Pregnancy and child-rearing can ultimately result in excess fat deposits appearing in a variety of body areas. These pockets of fat can often be hard to eliminate through diet and exercise alone. Liposuction can remove excess fat in the abdominal region, love handles, hips, and other areas.
TUMMY TUCK (ABDOMINOPLASTY)
The abdomen is obviously the most noticeable physical change before and after delivery. During pregnancy the muscles in the abdomen are pulled apart, and sometimes permanently separated. Dr. Jon Paul Trevisani can give you a tummy tuck (abdominoplasty) as part of a Mommy Makeover that can pull these muscles taut, remove excess skin, and give you a tighter, firmer abdominal area.
INJECTABLE FACIAL REJUVENATION
With the physical rigors of pregnancy and raising children, you may experience some changes in your facial aesthetic as well. The formation of extra lines, wrinkles, and creases may give you a tired, stressed appearance that can make you look older than you really are. Injectable facial rejuvenation treatments such as BOTOX® Cosmetic or Dysport® injections can smooth out signs of age and stress or add volume to facial features such as the lips and cheeks.
How Many Procedures are Included in a Mommy Makeover?
The number of procedures included in your Mommy Makeover depends entirely on your goals and preferences. In the majority of cases, two to three procedures are incorporated into a patient's treatment plan — typically, abdominoplasty and breast surgery are included in a Mommy Makeover. Liposuction may also be performed at the same time since surgery is minimally invasive compared to other procedures. Injectables and other facial rejuvenation treatments are also commonly utilized to give patients a more refreshed look. If your concerns warrant more than four surgeries, Dr. Jon Paul Trevisani may recommend parsing out your Mommy Makeover over separate stages. The best approach for each patient differs according to your cosmetic goals and individual needs.
WHAT SHOULD I EXPECT FROM MOMMY MAKEOVER RECOVERY?
The Mommy Makeover recovery process will depend on the number and type of procedures you decide to undergo, and whether you have the procedures performed in tandem or staged over a series of visits to our practice. More invasive procedures such as tummy tuck surgery or a breast lift can require a recovery period of at least one to three weeks, while less invasive options such as injectable facial rejuvenation typically involve much shorter periods of downtime. Dr. Jon Paul Trevisani will go over all aspects of the surgery and recovery process with you as you consider which procedures you would like to have as part of your Mommy Makeover.
MOMMY MAKEOVER RECOVERY TIPS
Like all surgical procedures, a Mommy Makeover will require a period of downtime to facilitate proper healing of your new body contours. Dr. Jon Paul Trevisani has outlined a few tips that can help mothers prepare for their upcoming treatment and increase the likelihood of a smooth and accelerated recovery process:
Arrange for a friend or loved one to help you around the house for the first few days after surgery. Since your mobility will likely be limited, having someone there to assist you in household tasks can give you the opportunity to rest following your operation.
Plan for childcare assistance during the first week after surgery. As some activities can be disruptive to your healing process, it can be invaluable to have someone handle responsibilities such as pick-ups and drop-offs, child supervision, and other activities that involve driving, heavy lifting, or exhausting physical activity.
Wear surgical bras, compression bandages, and any other post-operative garb according to Dr. Jon Paul Trevisani's instructions. These garments can help minimize swelling, reduce stress on the incisions, and diminish the likelihood of complications.
Get plenty of rest. This is critical to your recovery period, as well as achieving an optimal final outcome. Do not try to rush your healing process, and refrain from exercise and strenuous energy exertion until Dr. Jon Paul Trevisani clears such activities.
Always contact Dr. Jon Paul Trevisani if you experience any unusual symptoms, such as shortness of breath, dizziness, nausea, fever, or excessive bleeding. These reactions can be an indication that further medical attention is necessary, so please reach out if you have any concerns.
How Long Do Mommy Makeover Results Last?
The outcome of a Mommy Makeover should remain stable as long as patients maintain their weight and engage in an active lifestyle. The biggest deterrents to long-lasting surgical results include pregnancy, breastfeeding, and significant weight gain, as these factors have the potential to re-stretch the skin and musculature. That said, your new body contours should endure for years — or even decades — with proper care. Cosmetic surgery cannot stop the natural aging process, but most women enjoy the rejuvenation from their Mommy Makeover for the long-term future.
WHAT WILL THE SCARS FROM MY MOMMY MAKEOVER LOOK LIKE?
Any visible post-operative scarring will resemble the incisions used during each respective procedure. For example, liposuction incisions are typically very tiny and inconspicuous, appearing near the region that was treated for fat reduction. A tummy tuck scar will likely appear very low on the pubis, extending from hip to hip. It is usually well-hidden by underwear or a bikini bottom. Post-surgical marks from breast surgery often appear either in a "donut-shape" around the areola, in a "lollipop-shaped" fashion around the areola and down towards the breast crease, or in an "anchor-shape" encircling the areola and across the inframammary fold. This will be dependent on which breast surgery was performed, as well as the extent of your concerns. In some cases of breast augmentation, incisions are placed within the natural creases of the underarm, offering the utmost discretion.
In any case, Dr. Jon Paul Trevisani takes every measure to camouflage incisions within the natural contours of the body whenever possible for minimized visible scarring. Many patients find their scars fade to some degree over time after healing is complete.
WHEN IS THE BEST TIME FOR A MOMMY MAKEOVER?
Contrary to the belief that a Mommy Makeover can restore your pre-baby appearance immediately after giving birth, it is recommended to wait at least six months to one year after pregnancy before pursuing a Mommy Makeover. Having a child can take a substantial toll on the body, and it is essential to your health and safety to allow the appropriate amount of healing time before going through the physical demands of surgery. Plus, it often takes time for changes in the breasts and abdomen to settle after the body has undergone childbirth. Most patients find it helpful to wait until after the initial stages of caring for a newborn are over before taking on the energy and downtime required by a Mommy Makeover. Dr. Jon Paul Trevisani can personally advise you on the best time to develop your treatment plan based on your unique needs.
Is a Mommy Makeover Safe?
As long as a qualified aesthetic plastic surgeon is performing your procedures, a Mommy Makeover is considered safe and effective in helping restore a patient's pre-baby body. Dr. Jon Paul Trevisani will develop the best treatment plan to achieve your goals safely, and with beautiful, elegant results. For some patients, this may mean performing the chosen surgical procedures in stages, rather than during the same operation. This depends on the specific treatment options chosen as well as your unique needs.
Before developing your Mommy Makeover plan, Dr. Jon Paul Trevisani will carefully review your medical history to determine whether you're healthy enough to undergo surgery and the subsequent healing process. In some cases, it may be beneficial for certain patients to wait until their body stabilizes after giving birth before pursuing Mommy Makeover surgery. Pregnancy and childbirth take a major toll on the body, and allowing individuals the appropriate time to rest before additional surgery can help maximize the results. Rest assured our team will never recommend a Mommy Makeover if you're not a good candidate for treatment.
HOW MUCH DOES A MOMMY MAKEOVER COST?
Your Mommy Makeover expenses will depend on a number of factors unique to your personal treatment plan, including:
Which procedures make up your Mommy Makeover
The extent of your aesthetic concerns
Whether breast implants were utilized as part of your treatment
The surgical techniques employed during each procedure
Because this customizable series of treatments is personalized for each patient's unique needs, the price of a Mommy Makeover is different for every individual. As it is designed to address multiple aesthetic concerns at once, undergoing a comprehensive Mommy Makeover is typically more economical and less time-consuming than pursuing each individual procedure separately. Once Dr. Jon Paul Trevisani has an opportunity to assess your needs and cosmetic goals in a consultation, our office will be able to provide you with a personalized quote of your Mommy Makeover costs.
Our practice offers a number of flexible payment options, including plastic surgery financing through CareCredit®. This leading healthcare lending company offers a way to make treatment more affordable by presenting qualified applicants with a range of low- to no-interest payment plans that can be chosen to suit one's budgetary concerns. For additional questions about the cost of a Mommy Makeover, please don't hesitate to reach out to our practice and speak with a member of our team.
Choosing a Top Mommy Makeover Surgeon
A Mommy Makeover is an extensive treatment plan that should only be pursued if patients are under the care of a physician who specializes in cosmetic surgery. Therefore, those interested in a Mommy Makeover should ideally select a plastic surgeon who has been accredited by the American Board of Plastic Surgery. While general plastic surgeons do not necessarily specialize in cosmetic procedures, individuals who are certified by the ABPS have undergone comprehensive post-graduate training in aesthetic plastic surgery exclusively. This can give patients the confidence of knowing their Mommy Makeover is being performed by a plastic surgeon who has specialized experience in breast augmentation, tummy tuck surgery, mastopexy, and other cosmetic procedures.
ADDITIONAL MOMMY MAKEOVER FAQS
WHAT KIND OF ANESTHESIA IS UTILIZED DURING A MOMMY MAKEOVER?

Procedures included in a Mommy Makeover are typically performed under general anesthesia, especially for individuals who are undergoing more than one type of surgery in a single operation. However, the circumstances for each patient differ, so Dr. Jon Paul Trevisani will thoroughly review the details of your treatment plan with you, including what type of anesthesia will be utilized. If general anesthesia is administered, patients will have to arrange their pickup from our surgical facility with a friend or loved one beforehand.

WHAT IF I GAIN WEIGHT AFTER A MOMMY MAKEOVER?

Gaining a small amount of weight after Mommy Makeover surgery should not dramatically alter your final results, but it's strongly advised to keep your weight as stable as possible. Weight gain can stretch out the skin and make it less elastic, negatively affecting your body contours over time. Furthermore, a significant amount of weight gain may be distributed disproportionately around the body and compromise the quality of your Mommy Makeover results. For this reason, we recommend maintaining your weight by eating healthy and living an active lifestyle.

WHEN WILL I BE ABLE TO DRIVE AFTER A MOMMY MAKEOVER?

The answer to this question depends on when you're able to stop taking pain medications during the recovery period. Many patients do not need their pain medication after about two weeks, so it may be possible to resume driving at this point depending on your unique rate of healing. That said, you may be able to start driving earlier if you no longer require medications prior to the two-week mark. Dr. Jon Paul Trevisani will supervise your progress in follow-up appointments and keep you abreast of all activity restrictions during your recovery timeline.

HOW CAN I FACILITATE THE BEST POSSIBLE HEALING AFTER MY MOMMY MAKEOVER?

Sticking to the post-operative instructions outlined by Dr. Jon Paul Trevisani is the best way to encourage a smooth and speedy recovery. It's essential to allow your body plenty of time to rest, and to not rush the healing process by resuming your normal routine prematurely. Additionally, the importance of avoiding exercise and other activities that may overexert the body cannot be overstated. Dr. Jon Paul Trevisani advises erring on the side of caution during recovery and encourages patients to contact our office if they have any questions or concerns.

WHAT ARE THE RISKS OF A MOMMY MAKEOVER?

The risks of a Mommy Makeover are similar to the dangers posed by any surgical procedure. There is a possibility of infection, poor wound healing, unfavorable scarring, seromas, or uneven body contours, among other potential complications commonly associated with surgery. Dr. Jon Paul Trevisani will help ensure you're well-informed of every aspect of your treatment plan. Ultimately, it will be up to you to determine whether the benefits outweigh the possible risks. While a Mommy Makeover can seem daunting, the most effective way to safeguard your health, safety, and appearance is to select a highly experienced and reputable board-certified plastic surgeon to perform your chosen procedures.
CONTACT US
Dr. Jon Paul Trevisani can restore your body contours, refresh your skin, and help you attain your aesthetic goals after pregnancy and child-rearing. Please contact the Aesthetic Surgery Centre to schedule a consultation for Mommy Makeover.