CoolSculpting®
WHAT IS COOLSCULPTING®?
One of the most consistently difficult body parts to tone is the abdomen, with the hips and upper thighs also commonly presenting trouble. In many cases, this stubborn fat is a result of genetics and remains intact despite a healthy diet and fitness regimen, leaving many individuals frustrated with their results. For patients who prefer a non-surgical liposuction alternative, CoolSculpting® can help reduce pockets of fatty tissue in targeted areas with gradual, natural-looking results. The innovative treatment employs controlled-cooling technology to eliminate fat without the need for surgery, anesthesia, incisions, or extensive recovery time. Dr. Jon Paul Trevisani, our experienced plastic surgeon, offers this treatment for people who are close to their body contouring goals but need a little help with those last few pounds.
HOW DOES COOLSCULPTING® WORK?
CoolSculpting® uses an innovative technology called Cryolipolysis™ to freeze fatty tissue in a targeted area. This non-surgical treatment process, which is designed to leave surrounding tissue unharmed, breaks down fat cells. The body can then remove these damaged cells through the normal metabolic processes. Even better, this completely non-surgical treatment can be performed in the comfort of our office, typically with the patient sitting or lying down. Many individuals see gradual fat loss of up to 20 percent, and repeat treatments can achieve more comprehensive body contouring. CoolSculpting® is not a weight loss method, and we recommend that patients be close to their ideal weight before undergoing this procedure. Furthermore, CoolSculpting® can work in conjunction with a healthy diet and exercise plan to obtain more pronounced effects.
WHAT AREAS CAN BE TREATED WITH COOLSCULPTING®?
This in-office body contouring treatment achieves the best results when used to target isolated bulges of fat around the body. Popular regions for CoolSculpting® include:
Abdomen
Mid-back
Flanks ("love handles")
Inner or outer thighs
Upper arms
Inner knees
Neck
Bra Fat
Dr. Jon Paul Trevisani can evaluate your areas of concern during a consultation and determine whether CoolSculpting® can effectively treat the selected pockets of fat and fulfill your aesthetic goals. Depending on the thickness of fat in a given region, as well as the breadth of the treatment area, more than one CoolSculpting® session may be required to achieve the desired outcome.
AM I A GOOD CANDIDATE FOR COOLSCULPTING®?
CoolSculpting® is ideal for men and women who are at or near their target weight but still struggle with a few troublesome areas of fat. Even when maintaining a healthy diet and regular exercise, isolated pockets of fat can still persist. Many CoolSculpting® patients use this non-surgical procedure to put the "finishing touches" on their diet and exercise efforts. Patients who still have good skin elasticity typically respond best to CoolSculpting®treatments, as the skin can recontour to the slimmer shape of the body. Maintaining an active and healthy lifestyle after your CoolSculpting® procedure is essential for preserving your results.
IS COOLSCULPTING® ALWAYS A GOOD ALTERNATIVE TO LIPOSUCTION?
Whereas liposuction can be used to eliminate excess fat from nearly any area of the body, CoolSculpting® is most effective at treating specific areas of concern. CoolSculpting® is commonly used to target areas of isolated fat deposits, including the abdomen, mid-back, flanks, inner or outer thighs, inner knees, arms, and underneath the chin. Liposuction is typically better suited for patients who wish to treat larger areas of excess fat. The best way to determine if CoolSculpting® or liposuction is best for you is to schedule a consultation with our experienced plastic surgeon.
WHAT SHOULD I EXPECT DURING THE COOLSCULPTING® PROCEDURE?
When you arrive for your initial complimentary consultation, Dr. Jon Paul Trevisani will discuss your areas of concern and your cosmetic goals. He will then develop a customized treatment plan based on your needs and desired outcome. CoolSculpting® uses an applicator that attaches via suction to the treatment area. You will likely feel some tugging, pulling, and/or mild pinching, though these sensations should not cause much discomfort. As the Cryolipolysis™ technology begins to work, you will feel intense cold in the treated area followed by numbness. You might also feel some aching, tingling, or minor cramping, which is normal, and these symptoms should fade with time. The procedure time will vary depending on the number of regions you would like to address. Once complete, some light massaging will be performed where the device was attached to help improve your outcome. You should then be able to return to normal activity immediately. Some bruising, swelling, tenderness, and redness in the affected area may continue for a short period of time. Your comfort and care are our highest priorities, and we encourage you to ask any questions you may have during your visit or at any time following.
WHEN WILL I SEE MY COOLSCULPTING®RESULTS?
One of the many benefits offered by CoolSculpting® is the gradual, natural-looking outcome. You should begin to see results after about 8 weeks to 4 months. Multiple CoolSculpting® sessions can help you achieve greater fat reduction in one or more areas, and Dr. Jon Paul Trevisani can suggest the number of treatments that can optimize your result.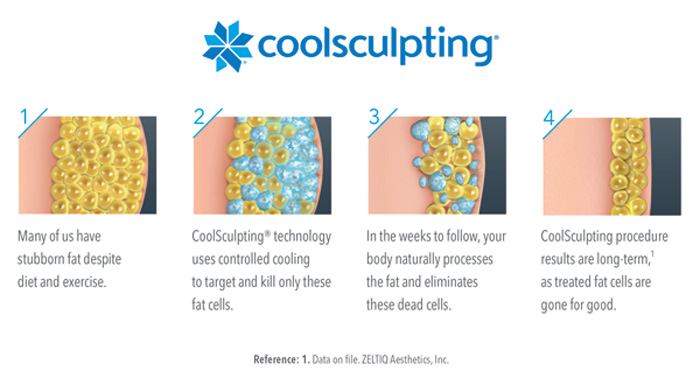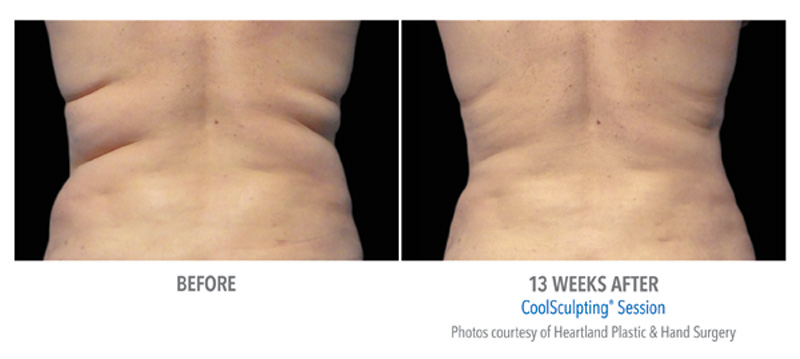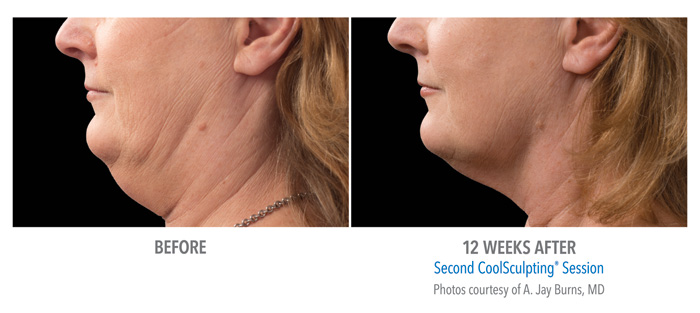 *Photographs are for illustrative purposes only. Individual results may vary.
WHAT ARE THE RISKS ASSOCIATED WITH COOLSCULPTING®?
While the risks involved with CoolSculpting® treatment are low, they do exist. Generally speaking, the low temperatures that patients are exposed to during the procedure can cause complications for individuals with a known history of cold-related sensitivities or diseases, such as cryoglobulinemia or damaged peripheral circulation. Dr. Jon Paul Trevisani will thoroughly evaluate your medical history prior to treatment to determine whether you are a good candidate for CoolSculpting®.
WHAT ARE SOME COMMON COOLSCULPTING® SIDE EFFECTS?
As CoolSculpting® begins to target the fatty tissue underneath the skin, the cold exposure has been known to cause tugging and pulling sensations. This is normal and may last the duration of the CoolSculpting® session. After the procedure, patients may experience stinging, aching, numbness, or sensitivity at the treatment sites. Temporary redness is also commonly experienced. These reactions should resolve on their own within the days following treatment.
IS COOLSCULPTING® PAINFUL?
Since CoolSculpting® is a non-surgical treatment, anesthesia, needles, and incisions are not necessary. Patients are typically reclined during the procedure, and feel comfortable enough to read a book or magazine during their session. Some patients feel so relaxed that they doze off while the treatment is being performed. There is generally no downtime associated with CoolSculpting® and patients can return immediately to their normal activities.
WILL COOLSCULPTING® ELIMINATE SAGGING OR EXCESS SKIN?
CoolSculpting® is designed and FDA-approved to target and eliminate isolated pockets of fat. Patients who have excess skin at the treatment site may require an additional procedure. For example, a tummy tuck can effectively remove excess skin from the abdomen, and neck contouring can eliminate sagging skin from beneath the chin. During the consultation process, it is important to clearly communicate your individual cosmetic goals. This helps Dr. Jon Paul Trevisani design a customized treatment plan that can best meet your expectations.
HOW MUCH DOES COOLSCULPTING®COST?
Each CoolSculpting® treatment is personalized to achieve your desired aesthetic outcome. As such, the cost of CoolSculpting® will vary from patient to patient. Because this method of fat reduction is performed in-office and requires no anesthesia, CoolSculpting® can be more affordable than body contouring treatments that involve hospital and anesthesia fees. In general, your cost estimate will be determined by:
The number of treatment sites
The number of sessions necessary to achieve the desired outcome
The size of the areas planned for treatment
Our office will be able to provide a personalized quote of your CoolSculpting® procedure after Dr. Jon Paul Trevisani assesses your unique needs in a consultation. We accept all major payment methods and also work with CareCredit®, one of the leading plastic surgery financing companies in the nation. Once approved through its simple application process, qualified patients can select from a range of low- to no-interest payment plans that can bring the cost of treatment into budget. Please don't hesitate to reach out to our practice to speak to a friendly member of our team about the cost of CoolSculpting®.
CAN COOLSCULPTING® TREAT CELLULITE?
CoolSculpting® is not intended for the treatment of cellulite. Cellulite occurs when connective tissues near the skin's surface pull it down, creating a dimpling effect. CoolSculpting® is designed to eliminate fat cells deep beneath the skin; it is not able to loosen connective bands that lead to the appearance of cellulite.
Additional CoolSculpting® FAQs
How long do CoolSculpting® results last?
Treatment with CoolSculpting® is designed to yield long-term results and the eliminated fat cells cannot "regrow" over time. That said, the contour achieved with CoolSculpting® can potentially be altered with additional weight gain. While the fat cells in the targeted area(s) are removed from the body, surrounding fat cells can still shrink and enlarge with weight fluctuation. The best way to maintain your results is to lead a healthy lifestyle consisting of regular exercise and a nutritious diet.
How safe is CoolSculpting®?
As a treatment cleared by the FDA, CoolSculpting® is considered a safe and effective method of non-surgical fat reduction. A full review of your medical history is conducted before proceeding with treatment to help ensure you are not affected by any cold-related diseases and are a good candidate for CoolSculpting®. All in all, the most important factor with regard to your safety is making certain you are under the care of a board-certified plastic surgeon or a qualified CoolSculpting® provider. Experienced medical professionals should openly communicate their training with you when prompted to help ensure you feel confident and comfortable with treatment. If you have doubts or uncertainties about a certain provider's training or proficiency performing CoolSculpting®, this is generally a sign that you should seek care elsewhere.
Does CoolSculpting® help you lose weight?
CoolSculpting® is not a weight loss procedure—in fact, the actual number of pounds shed after treatment is minimal. Rather, CoolSculpting® is for individuals who are at a healthy weight and simply wish to sculpt certain areas of the body to achieve an improved, more defined shape. There is a big difference between weight loss and fat reduction, with CoolSculpting® designed to achieve the latter by eliminating fat cells and enhancing the contours in the treated regions. Although CoolSculpting® is not meant for weight loss, many patients opt to lead healthier lifestyles after treatment, which can indeed result in a lower weight.
Can CoolSculpting® get rid of a double chin?
Yes, CoolSculpting® is cleared by the FDA to target excess fat cells in the submental region, thereby improving the contour under the chin. This can often achieve a sleeker jawline and a slimmer facial appearance overall. If you are interested in reducing a double chin appearance non-surgically, don't hesitate to ask Dr. Jon Paul Trevisani about your options.
Can I undergo CoolSculpting® at home?
CoolSculpting® should be performed in a medical setting under the supervision of a doctor or experienced CoolSculpting® provider. While CoolSculpting® may seem like a simple "fat-freezing" treatment on the surface, there is much more to the process that can make any DIY efforts to replicate the procedure ineffective at best and dangerous at worst. CoolSculpting® is a temperature-controlled treatment that uses an FDA-cleared vacuum applicator to draw up fat cells. This method, known as Cryolipolysis™, is designed to target fat cells without harming surrounding tissue. Because this safeguard does not exist with at-home fat-freezing techniques, attempts to reenact CoolSculpting® can lead to frostbite, numbness, severe pain, and permanent tissue damage.
For more information about CoolSculpting®, or if you're ready to schedule a complimentary consultation with Dr. Jon Paul Trevisani, please contact our office today.