Orlando Plastic Surgeon Discusses Removing Excess Skin After Weight Loss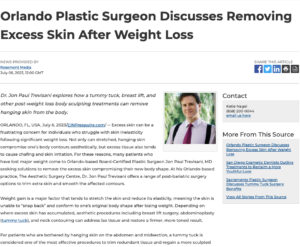 Dr. Jon Paul Trevisani explores how a tummy tuck, breast lift, and other post-weight loss body sculpting treatments can remove hanging skin from the body.
Orlando, FL — Excess skin can be a frustrating concern for individuals who struggle with skin inelasticity following significant weight loss. Not only can stretched, hanging skin compromise one's body contours aesthetically, but excess tissue also tends to cause chafing and skin irritation. For these reasons, many patients who have lost major weight come to Orlando-based Board-Certified Plastic Surgeon Jon Paul Trevisani, MD seeking solutions to remove the excess skin compromising their new body shape. At his Orlando-based practice, The Aesthetic Surgery Centre, Dr. Jon Paul Trevisani offers a range of post-bariatric surgery options to trim extra skin and smooth the affected contours.
Weight gain is a major factor that tends to stretch the skin and reduce its elasticity, meaning the skin is unable to "snap back" and conform to one's original body shape after losing weight. Depending on where excess skin has accumulated, aesthetic procedures including breast lift surgery, abdominoplasty (tummy tuck), and neck contouring can address lax tissue and restore a firmer, more toned result.
For patients who are bothered by hanging skin on the abdomen and midsection, a tummy tuck is considered one of the most effective procedures to trim redundant tissue and regain a more sculpted abdominal contour. As an adjunctive benefit, abdominoplasty may also be able to remove certain stretch marks — particularly if they're located below the navel.
The breasts are also a common site for skin accumulation following significant weight loss. Experiencing some degree of skin laxity is a natural part of aging, but this inelasticity is often exacerbated by weight loss, pregnancy, breastfeeding. Fortunately, extra skin in the breasts can be addressed with mastopexy, or breast lift surgery, to improve sagging and restore a more rejuvenated look.
The face is also not immune to developing loose or "crepey" skin, which usually exhibits in the neck and submental area. Neck contouring encompasses a number of techniques designed to produce a sleeker and sharper jawline, thereby emphasizing the youthful angles of the face and neck. For many individuals, this may involve a neck lift to correct platysmal banding and/or a "turkey neck"; for others, facial liposuction can be the ideal solution to reduce fullness caused by fat buildup. A patient's treatment plan can also combine both approaches if necessary to achieve the best possible result. No matter the nature of one's concerns and aesthetic goals, Dr. Jon Paul Trevisani creates a personalized treatment plan designed with their needs in mind.
Many men and women who have undergone massive weight loss — whether through natural means or bariatric surgery — consider post-weight loss body contouring the last step of their weight loss journey. Dr. Jon Paul Trevisani takes great pride in helping restore patients' confidence following their hard work to achieve a healthier lifestyle.
About Jon Paul Trevisani, MD, FACS
Dr. Jon Paul Trevisani is an aesthetic plastic surgeon who has been in practice for almost 30 years. As the Medical Director and lead plastic surgeon at The Aesthetic Surgery Centre, Dr. Jon Paul Trevisani offers a comprehensive range of surgical and non-surgical procedures tailored to meet each patient's unique goals and desires. Dr. Jon Paul Trevisani's extensive training and experience allow him to perform a wide array of procedures, including breast augmentation, tummy tuck surgery, facelifts, liposuction, and body contouring. He is a member of prestigious professional organizations such as the American Society of Plastic Surgeons (ASPS) and the American Society for Aesthetic Plastic Surgery (ASAPS). Dr. Jon Paul Trevisani has been widely recognized by publications and media outlets for his contributions to the field of plastic surgery. His dedication has earned him accolades from industry-leading publications such as Allure®, Self®, and Glamour®, and more. Dr. Jon Paul Trevisani is available for interview upon request.
To learn more about Dr. Jon Paul Trevisani and his practice, visit www.jptrev.com or
facebook.com/DrJonTrevisani.
Contact:
The Aesthetic Surgery Centre
413 Lake Howell Rd.
Maitland, FL 32751
(407) 677-8999
Rosemont Media
(858) 200-0044
www.rosemontmedia.com