Orlando Plastic Surgeon Discusses BIA-ALCL and Options For Breast Implant Removal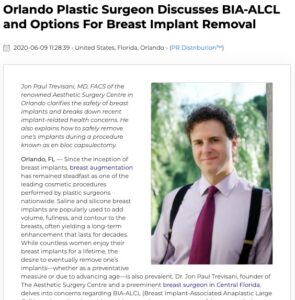 Jon Paul Trevisani, MD, FACS of the renowned Aesthetic Surgery Centre in Orlando clarifies the safety of breast implants and breaks down recent implant-related health concerns. He also explains how to safely remove one's implants during a procedure known as en bloc capsulectomy.
Orlando, FL — Since the inception of breast implants, breast augmentation has remained steadfast as one of the leading cosmetic procedures performed by plastic surgeons nationwide. Saline and silicone breast implants are popularly used to add volume, fullness, and contour to the breasts, often yielding a long-term enhancement that lasts for decades. While countless women enjoy their breast implants for a lifetime, the desire to eventually remove one's implants—whether as a preventative measure or due to advancing age—is also prevalent. Dr. Jon Paul Trevisani, founder of The Aesthetic Surgery Centre and a preeminent breast surgeon in Central Florida, delves into concerns regarding BIA-ALCL (Breast Implant-Associated Anaplastic Large Cell Lymphoma) and provides guidance on how women can safely remove their devices in a breast explant procedure, if they choose to do so.
BIA-ALCL is an extremely rare cancer of the immune system that has predominantly been associated with specific types of aggressively textured implants. A "textured" implant, Dr. Jon Paul Trevisani explains, refers to the surface of an implant shell. The outside of textured implants is rough and sandpapery to the touch, while smooth implants have a fluid, seamless surface. Based on statistics from the American Society of Plastic Surgeons, the risk of those with textured implants developing BIA-ALCL in the U.S. is approximately 1 in 30,000 patients. In contrast, no confirmed cases of BIA-ALCL have been linked to the use of smooth implants.
Dr. Jon Paul Trevisani emphasizes that his Orlando practice only uses smooth implants, and he has never felt the need to utilize textured implants. While the condition affects a very minute portion of breast augmentation patients when compared to the total number of women who have breast implants, Dr. Jon Paul Trevisani states that any concerns regarding one's health and safety are valid and should be explored.
For patients who are considering removing their implants for their own peace of mind or because they simply no longer desire their breast enhancement, Dr. Jon Paul Trevisani advises discussing the benefits and risks of an explant procedure with their plastic surgeon. If a patient decides to proceed with implant removal, a customized procedure can be performed to extract the breast implant as well as its surrounding scar capsule, which commonly forms around an implant due to the body's natural reaction to a foreign object. "En bloc capsulectomy" refers to an effective breast implant removal technique designed to withdraw the implant and scar capsule "as a whole," or at the same time. This can significantly lower the risk of leakage or rupture during the extraction process. After the implant and capsule are removed, patients have a choice of restoring their original breast contours with a breast lift or reduction.
Dr. Jon Paul Trevisani clarifies that the FDA is not recommending removal of one's breast implants if a patient is not experiencing irregular symptoms, regardless of whether their implants are smooth or textured. While there is no BIA-ALCL screening tool available at present, Dr. Jon Paul Trevisani advises undergoing routine breast examinations and generally remaining vigilant to swelling, hardness, rashes, lumps, and other changes in the breasts that may signify potential symptoms. Above all else, he stresses the importance of consulting with a board-certified plastic surgeon who is well aware of the latest breast implant updates so concerned patients can make a well-informed decision about future surgery.
About Jon Paul Trevisani, MD, FACS
Dr. Jon Paul Trevisani is the founder and lead surgeon at The Aesthetic Surgery Centre, a well-known provider of surgical and non-surgical enhancement in Orlando. As a board-certified aesthetic surgeon, Dr. Jon Paul Trevisani focuses on breast augmentation, tummy tuck surgery, and other cosmetic procedures for the face, breasts, and body. He belongs to several professional organizations, including the American Society of Plastic Surgeons, American Society for Aesthetic Plastic Surgery, and the American Medical Association, among other affiliations. When he is not at his practice, Dr. Jon Paul Trevisani is also an Assistant Professor at the University of Central Florida (UCF) and a part of the appointed faculty at the UCF College of Medicine. Dr. Jon Paul Trevisani is available for interview upon request.
Contact:
The Aesthetic Surgery Centre
413 Lake Howell Rd.
Maitland, FL 32751
(407) 677-8999
Rosemont Media
(858) 200-0044
www.rosemontmedia.com