What Is DVT and How Can I Avoid It After a Tummy Tuck?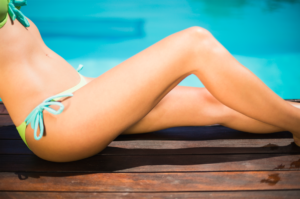 DVT (Deep Vein Thrombosis) is a condition characterized by blood clotting in the deep veins of the body – particularly the legs – and can sometimes occur after a major surgery such as tummy tuck. The condition may be especially harmful if the clotted blood becomes dislodged and travels to the lungs, causing pulmonary embolism, which can lead to other serious health risks. While the chance of developing DVT is extremely low (about 1%) for the average tummy tuck candidate, the risk may increase for patients who are:
Over the age of 40
Regularly using tobacco products
Using an oral contraceptive
Undergoing hormone therapy
Individuals with a genetic predisposition for hypercoagulation
During the consultation process, Dr. Jon Paul Trevisani, our board-certified plastic surgeon, will perform a physical exam and carefully review your medical history to determine your level of risk for developing DVT. Additionally, Dr. Jon Paul Trevisani and our team take all precautions before, during, and after surgery to help minimize any risk our patients may have for developing the condition. These precautions include using compression devices during and after surgery, as well as prescribing pharmaceutical blood thinners for the patient to take during recovery. We also strongly encourage patients to walk around shortly after surgery (we can assist with this), which can help reduce the risk of a blood clot. For more information about tummy tuck recovery or how to avoid DVT after plastic surgery, please contact our office today.