Why Do Breasts Lose Volume?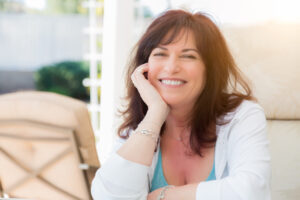 It's no surprise that the breasts tend to lose support, volume, and shape over time. While the cause of unwanted breast changes ranges from lifestyle factors to genetic predisposition, a flatter or more "tubular" appearance in the bust may result from:
Changing estrogen levels and other hormone fluctuations: Estrogen naturally decreases as women get older, leading to changes in the breast tissue. The skin is not as hydrated and elastic as it used to be, which may cause a smaller breast size and a noticeable reduction in volume. These effects are often compounded by reduced collagen and elastin production in the body, particularly for individuals who have gone through menopause.
Pregnancy and weight loss: The skin naturally expands and shrinks according to your body shape, so having children and/or losing weight can compromise the elasticity of the skin and breast tissue. As a result, the breasts may look smaller, lose firmness, and sag below the breast crease.
Ptosis: As the medical term for "sagging," breast ptosis occurs when the glandular tissue weakens and loses its supportive structure. This, combined with a lack of skin elasticity, leads to a drooping appearance, sometimes causing the nipples to point downward.
Genetics also play a role in how your breasts fluctuate in size and shape over time. While a loss of volume is just a natural part of getting older, you don't have to live with these changes forever. Dr. Jon Paul Trevisani, a leading aesthetic plastic surgeon in Florida, is considered one of the most skilled breast surgeons in the country. He offers breast augmentation to restore your desired breast size and shape, as well as other enhancement options like mastopexy, breast reduction, and a breast lift with implants to help you achieve a rounder, more youthful look. Breast augmentation is, by far, the most popular solution to restore volume, improve shape, and provide a more sensual silhouette.
Lost breast volume is an inevitable part of the natural aging process, but your contours can be reshaped with personalized breast procedures at our Orlando practice. Contact The Aesthetic Surgery Centre to find out the best treatment option for you, or to schedule a consultation with our board-certified plastic surgeon.