Breast Reduction vs. Breast Lift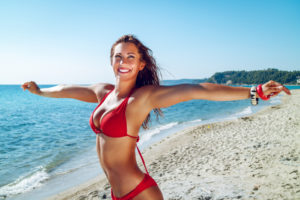 If you are considering breast enhancement, you may be in the process of researching different procedures to learn which surgery can help you attain your desired look. While a breast reduction and breast lift are both popular options that can achieve comparable aesthetic goals—such as improving the shape and contour of the breasts—there are a few distinctions between the two procedures that may highlight the most ideal treatment for your concerns.
Considered among the most gratifying cosmetic surgeries available, a breast reduction can benefit patients who feel their breast size is disproportionate to their body— an aesthetic imbalance that typically presents a number of physical and emotional burdens. The procedure is designed to remove excess skin, fat, and breast tissue, with the goal of reducing the overall breast size. While breast reduction typically includes some degree of "lift," this surgery should only be considered if you desire a smaller, more manageable breast size to alleviate the symptoms of excessive breasts.
In contrast, a breast lift is performed for patients who are happy with their breast size, but experience sag or a loss in shape that causes the breasts to appear flat or "deflated." These concerns are common among women who have undergone pregnancy and/or nursing, which can both cause diminished breast volume along with increased skin laxity. To restore a more rejuvenated aesthetic, a breast lift is designed to raise and reshape the breasts for an improved positioning and rate of projection. With or without the addition of implants, a breast lift can be an appropriate treatment option for individuals whose concerns are purely cosmetic and who simply wish to renew their breast aesthetic.
If you are unsure which breast surgery is capable of achieving your aesthetic goals, plastic surgeon Jon Paul Trevisani, MD can advise you on the best procedure to address your concerns. To learn more, or if you are ready to schedule a consultation, please contact our practice today.