What Can I Do To Help With My Scars?
Thank you all for great feedback on last Friday's trivia question on "What can be done to help with scar healing?" All of your answers are correct and we value your input. Unfortunately once an incision is made, a scar is then created. The attention then focuses on what we can do to help with scar healing. The avoidance of sunlight can certainly reduce the hypopigmentation or hyperpigmentation of the scar. Recommended options are using a bandage to cover the scar during the first three months while the wound heals while doing activities in the sunlight, or, to use sun block, preferably with zinc oxide or titanium dioxide with an SPF of 35 or higher. Vitamin E, Mederma gel and following your surgeon's recommendation are all additional ways to help with your recovery.
Silicone scar sheeting is another way for scar improvement. Let's shift the attention to this a little more, shall we?
Patients ask me this question all the time and I am confident to say that I have seen excellent results with the use of 100% medical grade silicone gel sheeting for managing and treating scars for breast reduction, breast lifts and abdominoplasty procedures. NewGel™ is the Scar Management Solution at our practice and it helps reduce, flatten and smooth scars by providing a combination of occlusion (seals the scar from exposure to air), hydration, elevated skin temperature and continuous light pressure.
This NewGel™ Silicone Sheet is formulated to provide the best adhesion and durability and is FDA approved. Positive results can be seen in as little as 3-7 weeks and best results are seen after 3 months. The sheeting is formulated to be worn 6 to 24 hours per day, the more time this sheet is in contact with the scar, the greater the effect! NewGel™ is reusable for up to four weeks, it can be simply hand-washed with water and mild soap, rinsed, air-dried and reapplied.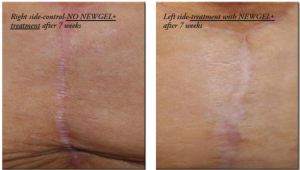 Remember, there are no products and procedures that are available in the market to totally remove all evidence of a scar, but NewGel™ can significantly help improve them. Call our office today to inquire more about this product at 407-677-8999. To learn more about NewGel™ Scar Management or to purchase products, click here.
Submitted by: Roshani J. Patel