How to Firm Sagging Breasts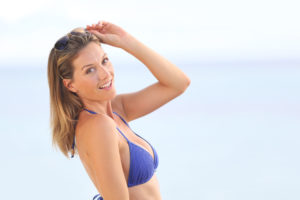 Breasts may descend from their natural position on the chest for a number of reasons—gravity, weight fluctuation, pregnancy, breastfeeding, or simply the natural effects of aging can culminate and cause a loss of shape in the breast tissue, ultimately resulting in the appearance of sag. Most, if not all, women experience some degree of breast ptosis (drooping) at one point in their life and seek out exercises or aesthetic treatments to restore younger-looking breasts.
While some workout regimens claim to naturally firm and lift the breasts, these reports are usually misleading and untrue. There are indeed exercises designed to strengthen the pectoral (chest) muscles, but no workout can actually tighten the loose skin and breast tissue laxity that leads to the appearance of sag. Therefore, if patients truly want to rejuvenate the shape and projection of their breasts to eliminate drooping, breast surgery is considered the best treatment to provide the most effective and long-lasting results. For women who are happy with their breast size and simply wish to achieve a younger-looking aesthetic, breast lift surgery can firm, reshape, and tighten the breasts to restore a more central positioning. In this way, a breast lift is typically considered the most effective technique to correct breast sag. This can be accomplished with or without the addition of implants, which are designed to add volume and help enhance the breast contour. Known as a breast lift with implants, this combination procedure can provide the most comprehensive rejuvenation of the breast appearance.
Questions? For more information about how to reach your aesthetic goals, or to schedule a consultation with Dr. Jon Paul Trevisani, please contact our practice today.