Can I Get Rid of Dark Circles Under My Eyes?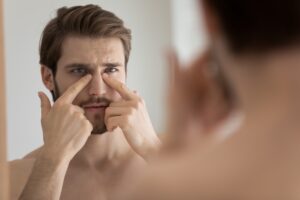 Dark circles under the lower eyelids are often associated with a lack of sleep, but many patients don't know that shadows can develop regardless of how rested or alert you feel. These dark circles are often accompanied by puffy under-eye bags, which is no coincidence. Eye bags typically become more noticeable as natural collagen production declines, causing the fat pads below the eyes to protrude as you get older. While sleep deprivation can certainly exacerbate dark circles, bulging fat pads are known to create shadows under the eyes no matter how much sleep you get the night before. 
Fortunately, lower blepharoplasty can be an ideal treatment to not only improve dark circles, but also smooth puffiness below the eyes. During the procedure, Dr. Jon Paul Trevisani — our Orlando aesthetic plastic surgeon — repositions the fat pads while removing excess deposits causing a baggy appearance. This, in turn, reduces shadows under the eyes to help you look brighter and more rejuvenated. Patients can also treat excess skin and signs of aging in the upper eyelids as well, often combining upper and lower eyelid surgery into one comprehensive procedure. 
In some cases, BOTOX® Cosmetic and other injectables like Dysport® and Restylane® can complement the results of eyelid surgery by addressing wrinkles and replenishing lost volume. Ultimately, every patient interested in refreshing their eyes should consult with a board-certified plastic surgeon to obtain a personalized treatment plan. Dr. Jon Paul Trevisani can tailor the lower blepharoplasty procedure to regain a more youthful look while achieving your aesthetic goals. 
Dr. Jon Paul Trevisani would be happy to speak with you about the benefits, risks, and limitations of the blepharoplasty procedure. Please contact The Aesthetic Surgery Centre to schedule a consultation or to learn more about our treatment options.