What to Expect After Eyelid Surgery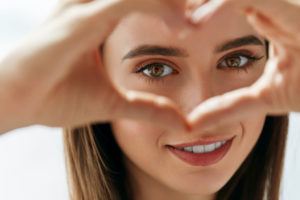 According to the American Society for Aesthetic Plastic Surgery (ASAPS), eyelid surgery is one of the most frequently performed cosmetic procedures in the country. Commonly known as blepharoplasty, this aesthetic surgery can give patients the ability to eliminate signs of exhaustion, stress, and age around the eyes—an area of the face that often exhibits these concerns most prominently. The result of blepharoplasty can be a more refreshed and youthful expression, thereby offering patients an effective treatment to minimize pronounced facial aging as well as resolve lax tissue in the upper eyelids that may be obstructing their vision.
After upper and/or lower blepharoplasty, patients can expect to make a full return to their daily routines within seven to ten days. Bruising, swelling, tenderness, and discoloration is common while the tissue around the eyelids continues to heal. Your eyes may also feel watery, dry, stiff, or sensitive to light in the first few days following eyelid surgery. Our board-certified plastic surgeon, Jon Paul Trevisani, MD, will prescribe you eye drops and/or ointments to assuage the eyes and help facilitate the healing process. As these reactions gradually subside, the aesthetic outcome of your procedure should improve. If you've undergone upper blepharoplasty, any "hooding" of the upper eyelid should be smoothed and the full scope of your vision should be restored. For lower blepharoplasty patients, puffy or baggy eyelids should be resolved, resulting in a brighter, more energetic look. Whether you have undergone upper and/or lower eyelid surgery, any scarring after the procedure should exist discreetly within the natural contours of the eyelids and appear inconspicuously to outside observers.
Do you have additional questions about what you can expect after blepharoplasty? Don't hesitate to contact our Orlando plastic surgery practice to schedule a consultation with Dr. Jon Paul Trevisani, or for more information about treatment.