How Do I Get Rid of a Bra Bulge?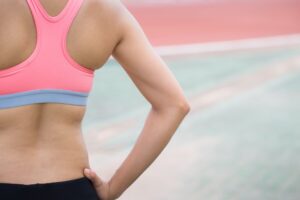 If you find that putting on a bra causes an accumulation of excess fat to protrude over the straps, you're not alone. A "bra bulge" is a widely shared aesthetic concern that's often difficult to smooth with natural solutions like dieting and exercise. The underarms and mid-back can be challenging regions to target through workouts alone, often leading to frustration when patients fail to achieve their desired results. At our Orlando practice, board-certified plastic surgeon Jon Paul Trevisani, MD offers multiple treatment options to address bra bulges around the arms and mid- to lower back, including liposuction and CoolSculpting®. 
Liposuction
Liposuction is a suction-based fat removal procedure often considered the most reliable and effective approach to body contouring. With liposuction, Dr. Jon Paul Trevisani can precisely target the affected region and smooth the fat buildup causing a bulge around the bra line. The results should be immediately noticeable and improve with time as swelling goes down. However, this surgical procedure requires incisions, anesthesia, and a brief recovery period. 
CoolSculpting®
If you prefer a less invasive technique to smooth your bra bulge(s), CoolSculpting® can be a potential treatment option to reduce fat around the bra line without any surgery or downtime. This is achieved through controlled-cooling technology, which destroys fat cells by emitting very cold temperatures to the subcutaneous fat layer. While there are no incisions necessary, it may take multiple CoolSculpting® sessions to achieve the results you desire. Furthermore, the outcome generally reveals itself in the months following the procedure as the fat is naturally metabolized. For this reason, those looking for more immediate results may be better served with liposuction. 
Dr. Jon Paul Trevisani offers an array of body sculpting treatments to address "problem" areas and help you attain the slimmer, smoother contours you desire. Contact The Aesthetic Surgery Centre for more information about your treatment options, or to schedule a consultation with our plastic surgeon.