Can a Tummy Tuck Improve Posture?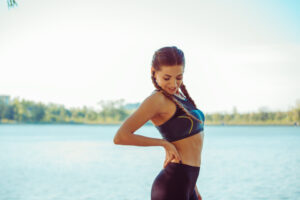 According to the American Society of Plastic Surgeons (ASPS), improved posture is among the surprising medical benefits commonly experienced after tummy tuck surgery. Part of the body contouring procedure involves repairing weakened or stretched abdominal muscles, which can thereby strengthen the underlying musculature. This often creates a more supportive abdominal wall and a stronger overall core. As a result, some patients achieve greater support for their spine as well as better posture from their cosmetic surgery.
In many cases, correcting a protruding abdomen and tightening abdominal muscles during a tummy tuck can improve your posture. However, the adjunctive benefits for one's spinal alignment that are possible after the procedure depend on each patient's goals and unique circumstances. Postural improvements are typically most noticeable when the abdominal musculature has been greatly weakened due to pregnancy or obesity. For these patients, the corrective effects of a tummy tuck can be quite dramatic. In addition to adopting a healthier posture, those who pursue a tummy tuck may potentially enjoy other medical benefits like:
Correction of a ventral hernia
Reduced back pain
Decreased urinary stress incontinence
While a tummy tuck is mainly performed to resolve aesthetic concerns, improved posture is one of the many ways that abdominoplasty can enhance your overall quality of life. To schedule a tummy tuck consultation with Dr. Jon Paul Trevisani, please contact our Orlando practice today.