Negative Effects of Vaping on Anesthesia and Surgery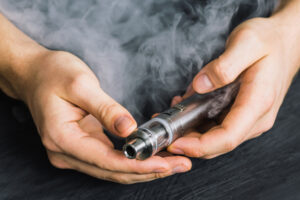 The dangers of smoking before and after cosmetic surgery are well-known to the general public, but many individuals wonder whether the use of electronic cigarettes or "vaping" can similarly compromise post-surgery health outcomes. As a method of consuming nicotine, tobacco, and other substances that's marketed as a "healthier" alternative to smoking, there are prevailing misconceptions about how damaging electronic cigarettes — commonly referred to as "vapes" or "e-cigs" — can actually be to one's health and well-being. 
According to extensive studies conducted by the American Association of Nurse Anesthetists (AANA), vaping can significantly increase the risk of complications after surgery in ways comparable to smoking regular cigarettes. No matter the method of consumption, nicotine can greatly disrupt the body's healing processes by negatively affecting: 
Wound healing and scarring
The effectiveness of certain post-operative medications
The risk of infections after surgery
The body's ability to deliver oxygen to vital organs and tissues
The survival of healthy tissue, leading to an increased risk of necrosis (tissue death)
Vaping has also been shown to cause complications with the administration of general anesthesia — a sedation method typically utilized during popular procedures such as abdominoplasty and breast augmentation. Nicotine can adversely influence the cardiovascular system, leading to irregular or unstable blood pressure (hemodynamic instability) under general anesthesia. Furthermore, the effects of nicotine have been proven to reduce blood flow, increase heart rate, and induce hypertension.
Dr. Jon Paul Trevisani encourages patients to be honest about their history of both smoking and e-cigarette use during their plastic surgery consultations so he can provide proper guidance on how to achieve your goals safely and effectively. Your health and safety are his top priorities, and it's important to be thoroughly educated on the different ways that smoking and vaping can affect surgical outcomes. If you have any questions, or if you would like to discuss your concerns with Dr. Jon Paul Trevisani in person, please don't hesitate to contact our Orlando practice today.