CoolSculpting® For Men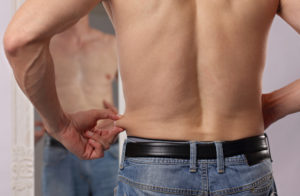 Most men know a healthy diet and a regular exercise regimen are key components to maintaining a toned, athletic looking body. However, even very active men who eat a diet consisting of lean meats, fruits, vegetables, and complex carbohydrates may find their body stores pockets of stubborn fat in certain areas. The lower abdomen, flanks ("love handles"), and sometimes the chest are common areas of the body where men may feel they are carrying a little extra weight that prevents their exercise and diet efforts from being fully seen.
To help these men achieve the definition they are striving for, CoolSculpting® can be used to eliminate this layer of excess fat. Ideal candidates for CoolSculpting® are already at or near their ideal weight and seek to reveal the toned muscles directly beneath these isolated fat deposits. Men can also choose to schedule multiple treatment sessions of this noninvasive, nonsurgical procedure to maximize their results. At the initial consultation, our board certified plastic surgeon can recommend how many treatment sessions would be best suited for each individual patient.