How to Make Facelift Results Last Longer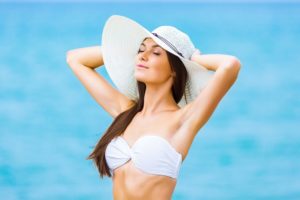 Facelift surgery is often praised for the procedure's ability to erase years of facial aging, but—as former and current facelift patients are aware—the results unfortunately cannot put a stop to the aging process. With continuous influence from gravity, age, and sun exposure, the skin will naturally start to loosen again depending on factors such as your genetics and lifestyle habits. In general, the best way to preserve the outcome achieved with a facelift is to protect your skin from harmful forces that may damage the collagen and elastin fibers. This can be achieved by:
Using sun protection

: Sun damage is a leading cause of rough, loose skin as well as age spots and hyperpigmentation. To keep your skin looking firm and healthy, always apply sunscreen that is at least SPF 30 before going outside. Wearing a sunhat, visor, and sunglasses can also help protect your skin from damaging UVA and UVB rays. 

Commiting to a healthy diet

: The foods you eat can certainly affect the degree to which you show signs of facial aging. To improve the elasticity of your skin, try to incorporate bright, fresh vegetables and fruits into your diet and consume foods high in vitamin A, E, B, and C.

Using medical-grade skincare products

: While many over-the-counter topical creams target the surface layer of the skin, high-quality products from a doctor or surgeon can help repair the inner skin layers where collagen and elastin are stored. 

Trying non-surgical touch-up treatments

: As you notice skin laxity, wrinkles, and/or facial folds starting to develop, non-invasive treatments like facials or chemical peels to cleanse, exfoliate, and refine the skin can do wonders for reducing signs of age.

BOTOX

® Cosmetic and other injectables can also be used to smooth wrinkles and creases without surgery or downtime. 
If you would like to learn more about how you can maintain a refreshed and youthful appearance, please contact The Aesthetic Surgery Centre to schedule a consultation with Dr. Jon Paul Trevisani.