Will I Gain Weight After Liposuction?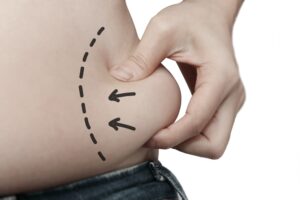 Many people grapple with stubborn fat that just doesn't seem to go away with dieting and exercise. To combat that concern, liposuction addresses excess fat pockets to create a more toned figure and enhanced contour. The popular cosmetic procedure targets unwanted bulges and fat buildup in areas such as the abdomen, thighs, neck, and arms by removing fat cells. Additional benefits include the procedure's effectiveness for both men and women, little to no recovery time, and a low risk of serious side effects. With less invasive techniques than many other surgeries, liposuction has become a widely utilized and sought after body contouring surgery. At The Aesthetic Surgery Centre, Board-Certified Plastic Surgeon Jon Paul Trevisani, MD can sculpt and contour your body to help you achieve your aesthetic goals with your needs in mind.  
After a procedure like liposuction designed to tone your physique, many patients wonder whether they will gain weight afterwards. The short answer: it's possible. There is a chance that patients can gain weight after liposuction, as the surgery is not designed to be a treatment for weight loss, obesity, or cellulite removal. In fact, the actual amount of weight lost during liposuction is typically minimal. While the targeted fat cells are no longer in your body, gaining weight after the procedure means the remaining cells can grow larger. Excess fat can also be distributed elsewhere, meaning weight fluctuations can lead to unwanted changes in your post-surgery figure.  
It is recommended that patients stay as close as possible to their ideal weight before pursuing liposuction, and to maintain a healthy, active lifestyle post-surgery to contribute to long-lasting results. If you have additional questions or are wondering if liposuction is right for you, contact our office to schedule a consultation.